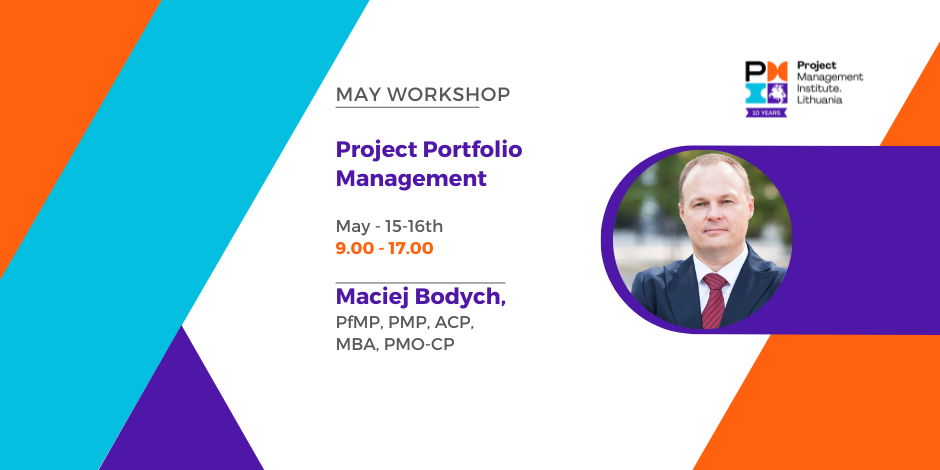 Project Portfolio Management workshop
15 gegužės @ 9:00 am

-

16 gegužės @ 5:00 pm

|

489€
Participant profile:
The workshop is dedicated for Managing Directors, Department Directors and Managers, PMO Directors and Managers, Portfolio Managers who:
would like to refresh their knowledge on portfolio management;
have the experience in portfolio management and wish to verify their knowledge against The Standard for Portfolio Management®;
would like to get new knowledge about portfolio management good practices from other companies.
The workshop objectives:
to consolidate the knowledge covered in The Standard for Portfolio Management®
to present project, program and portfolio management processes in the context of the organization;
to understand the role of the PMO in order to gain the ability to select services provided by the PMO to the organization;
to discuss problems and challenges associated with implementing a portfolio management process and PMO in the organization.
Benefits for the participants:
Combining projects with the business goals of the organization;
The analysis of undertaken projects in terms of the required vs. available resources;
Designing a system of metrics for monitoring project execution process and assessment of delivered benefits;
Using project templates, procedures, and reports enabling implementation of project and portfolio management standards in the organization;
An individual approach to designing the learning path during the course – tailoring the course scope to the current knowledge level of each participant;
Support from trainers with long experience in the Portfolio Manager role;
Providing a future development path in portfolio management within PMI®;
About the speaker:
Maciej Bodych, PfMP, PMP, ACP, MBA, PMO-CP Expert in project and project portfolio management and quality management, author and speaker
Author of articles in project management area.
Co-author of the book PMO. The practice of implementation project and portfolio management in an organization
Lectures at numerous conferences and seminars organized by Project Management Institute, Institute for International Research, and other events such as PMDays, GigaCon, etc.
Since 2003, heavily involved in Project Management Institute (PMI®) activities. He was the President of the Warsaw Branch and of the Polish Chapter and the Chairman of the Audit Committee. Since 2010 worked in the headquarters of PMI® (USA) as mentor responsible for Eastern Europe, next he was a member of Volunteer Advisory Board. Currently, he works for the PMI Global Board in the Certification Governance Council (CGC). Macej carried out projects and trainings for GK LOTOS, GK CIECH, ABB, Raiffeisen Bank, ING Bank Śląski, Nestle, ROCHE, PGNiG Termika, ZUS, Orange, Bogdanka and many other companies.
The course agenda:
Course introduction
Presenting course objectives and agenda
Team-building exercises
PMI® approach to portfolio management
Introduction to The Standard for Portfolio Management®
Key definitions, tools and techniques
Key roles in portfolio management
The Standard for Portfolio Management®
Portfolio Management Process Groups according to PMI®
Knowledge Areas in The Standard for Portfolio Management®
Portfolio life cycle according to PMI®
Portfolio Strategic Management
Develop Portfolio Strategic Plan
Develop Portfolio Charter
Develop Portfolio Roadmap
Portfolio Governance Management
Develop Portfolio Management Plan
Define Portfolio
Optimize Portfolio
Authorize Portfolio
Provide Portfolio Oversight
Portfolio Performance Management
Develop Portfolio Performance Management Plan
Manage Supply and Demand
Manage Portfolio Value
Portfolio Communication Management
Develop Portfolio Communication Management Plan
Manage Portfolio Information
Portfolio Risk Management
Develop Portfolio Risk Management Plan
Manage Portfolio Risks
Questions and discussions
Practical information: 
Language – English
Place – Microsoft Teams platform
Time – 2 sessions from 9:00 till 17:00